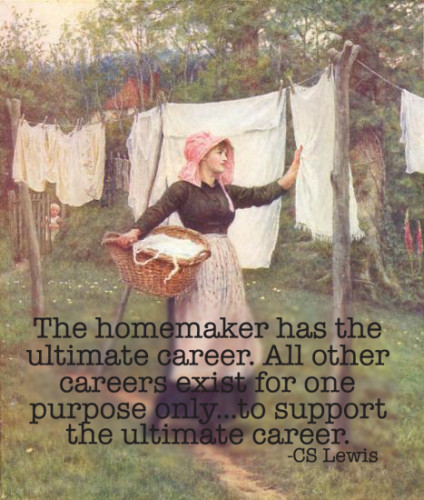 I was talk­ing to a friend today about man­ag­ing our homes and all that that entails. She shared that it seems over­whelm­ing, and that she strug­gles to get it all done. Home­school­ing, meals, laun­dry, dust­ing, vac­u­um­ing, bathrooms…You know the drill.
She said she feels like a fail­ure at it some­times. Boy. Can I relate!
But then, I asked her how much train­ing she received for her job as home­maker. Vir­tu­ally none.
When we hear of man­agers in busi­nesses, they typ­i­cally have been work­ing in the field for sev­eral years before being pro­moted to man­ager. Right? And then they are trained specif­i­cally for this new title. They have guide­lines, men­tors, assessments…
Home­mak­ers: zip.
Unless they have been blessed with the train­ing grow­ing up. Most haven't been. Or have a Titus 2 woman pour­ing into their lives now. Most don't.
Yet we beat our­selves up and think that some­how because we are female that we ought to nat­u­rally KNOW how to be home­mak­ers, how to run this major enterprise.
Is this some­thing you strug­gle with, too?
I sug­gest that we need to invest in our roles as home­mak­ers. Don't feel bad if you don't have it all fig­ured out. I've been mar­ried almost 25 years now, and I still feel like I am play­ing catch up on this front. It never occurred to me that I should invest in books and lessons on how to man­age a home. But, maybe that is exactly what we need to do! I thought I should just know how to do it.
Maybe it's just me. How are you doing in this? Tips? Book rec­om­men­da­tions? Encour­age­ment? Thoughts? Please share.