On the sec­ond day of our annual field trip, we ven­tured to the Grand Canyon. Admit­tedly, I was a lit­tle ner­vous. Last time I was at the Grand Canyon, I had three lit­tle boys, aged 4, 6, and 8. Plus a sweet lit­tle six month old daugh­ter who was strapped to my body. Boys and canyons that are opened wide for falling just aren't a great mix.
I was pleased to see that some mother was able to influ­ence the pow­ers that be in the deci­sion mak­ing and money spend­ing realm of the National Park Ser­vice because this time, they had rail­ings and fenc­ing every­where I looked. A boy would have to work hard to hurl him­self down that canyon to cer­tain death.
And I know it was a mother because a father doesn't tend to notice such things. In my experience.
Have I ever men­tioned my insane fear of heights?
Seri­ously. I have often con­tem­plated just dri­ving off of a high bridge that I am dri­ving over, just to get it over with. I KNOW I am going to end up falling off any­way. So far, I've made it across all bridges unscathed.
Mike rec­om­mends just stay­ing put when I have the option. We were vis­it­ing in San Diego once. He had meet­ings. I had the day to explore with the kids. Huge bridge to get to the beach. Me freak­ing out as we drove over. It was a wild ride. He sug­gested an alter­na­tive plan for the next day…
Any­way. Back to the Grand Canyon.
It was spec­tac­u­lar. The rail­ings were helpful.
But I think that going with lit­tle girls and an older son made it much more peace­ful for me.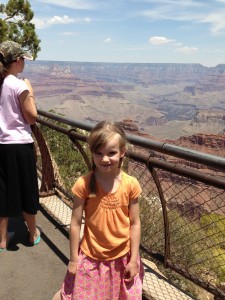 We made it safely out of the park. Not even a close call this time. We con­tin­ued our drive to King­man.
And we even got a sur­prise for din­ner: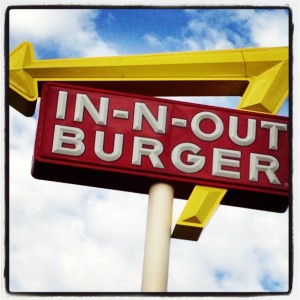 I feel like a hero.
It's been a good day.